Although data indicates that travelers are starting to become more open-minded with traveling, many are taking things one step at a time. Travelers are breaking their lockdowns by visiting places that they can get to on a single gas tank instead of going on week getaways to other countries.
In fact, based on AirDNA data, there were more domestic trips scheduled between mid-May and early June this year than last year. Vacation rental listing sites such as Airbnb, Expedia and Vrbo have also recorded a rise in domestic travel bookings.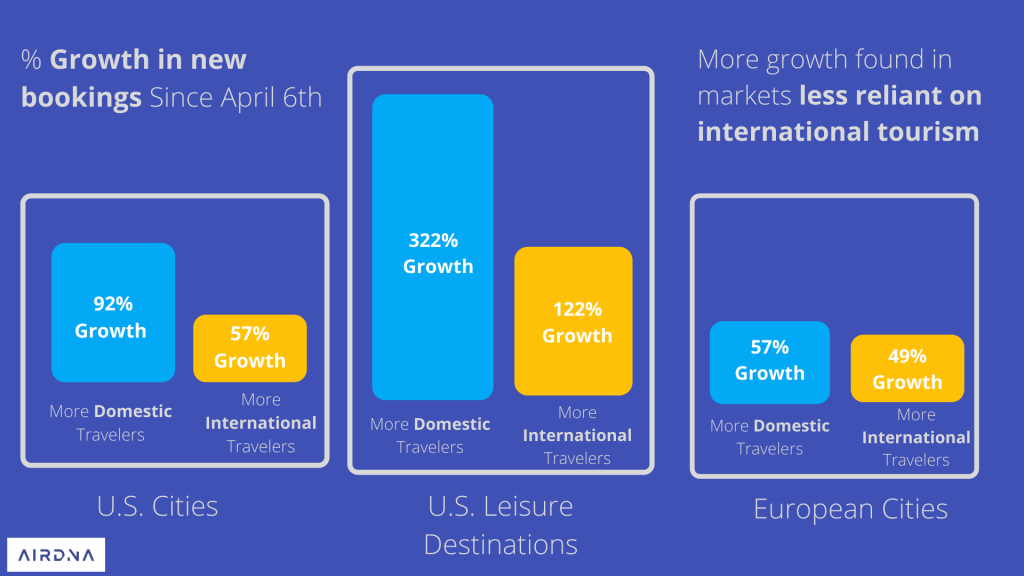 Lodgify's own Carla Chicharro (Inbound marketing manager) and John Gloekler (VP of Sales) along with hospitality expert and coach, Mark Simpson (Boostly) discussed the latest industry data, as well as the best ways to attract staycationers and domestic travelers.
In an effort to help fellow vacation rental owners and property managers, panelists shared personal advice, suggested tactics and recommended the solutions that have worked for them.
Webinar Video
In the first part of the webinar, we introduced the attendees to Lodgify's all-in-one vacation rental software and shared Lodgify's newest features; property management modules and a new subscription plan. The Ultimate plan is now available at only $46 with a yearly commitment. PM modules include the following features: guest management, task management, automation, reporting and accounting.
John Gloekler, our VP of sales, then shared his presentation on the latest vacation rental industry data post-COVID19. He shared our customer booking amount data since the beginning of the year, shared some tips on where to list your property based on your target audience and how to manage risks and volatility.
We then heard from Carla on how to optimize your business, vacation rental website and listing to target staycationers and domestic travelers. Some of her tips include reviewing cancellation policies, highlighting your cleaning protocols, uploading high-quality photos and publishing content (or writing a blog) about all of the things your guests will be able to do locally. 
Lastly, Mark Simpson interacted with the webinar participants and actively shared actionable marketing strategies and actions that can be easily implemented that same night. Watch the webinar video to find out more!
Q&A Session
We wrapped up the event by inviting our attendees to share with us their questions. Here are the main questions asked during the event (edited for clarity):
How do you find Facebook groups in the location… Do you search for "Leeds staycations"?
Mark: All you do is to go to Facebook and search for "For sale" groups and you could also go niche as well. For example, if your business is located in Leeds, some groups you could consider joining to share your content and promotions are:
What are the key items to put on a Facebook page? I don't have one yet but it's on my list to do.
Carla: Great question! We've written a lot of content around Facebook marketing in our blog. You can read a
Facebook is a great channel to use to build relationships with potential (or past) guests and promote your business. Just like your website, Facebook is another direct channel whereby owners can obtain booking requests.
To help you learn more about using Facebook as part of your marketing efforts, check out the "Vacation Rental Marketing Guide to Facebook".
Would you recommend to change from strict cancellation policy to flexible? What kind of cancellation policy do you recommend? Can I have different cancellation policies for different dates?
John: I would recommend changing your cancellation policy in conjunction with your pricing. Travelers are looking for flexibility and they want to be assured that when they book with you, especially if it's a month or two months out, that they'll be able to get a complete refund. If it's short-term, like this weekend, then you don't have to be as flexible.
All my listings have the current COVID badges, cleaning protocols, local blogs, flexibility in booking, self-check-in, etc. It seems I'm doing it right, but my rentals are urban and it's looking slow here.
Mark: For urban vacation rentals, the types of travelers that are going to bounce back first are business travelers, but be sure to do the following:
Build relationships with your local workers, especially, local hospital workers; COVID is not going anywhere and hospitals will continue to hire travel nurses and doctors. Get in touch with your local hospitals. Each hospital works differently but ask to speak to the staff department and work your way through to find the right person to speak to. In some hospitals, the HR department would be responsible of staffing and housing these nurses, in others, it's the marketing or communications department that would promote your rentals between their staff. Add your listing to their housing database.
Get in amongst your local businesses around you, they may need freelancers or contractors from out of town and they will need a place to stay.
Go through the list of your previous guests and see if there are any similarities that stand out. Call them and ask them if they're going to be coming back to your town and if they're not, ask them to recommend your property to their friends who are visiting your area.
Carla: In addition, adjust your website and/or listing to reflect proximity and convenience to the hospital. People are very visual, so if you could also upload a diagram to show the proximity of the hospital to your unit, that would also help. Hospitals may not promote your listing but it's a good effort. Some even have a bulletin board, so you can also pin things on.
Search for Facebook groups used by travel medical personnel like for example, "Travel nursing: Places/Rooms for rent" or you can simply type in the city/town your properties are located in the Facebook group search bar and look for groups that may be relevant to your ads. For example, San Diego has a Facebook group called "Housing: San Diego Conscious Community" that might be relevant for your business!
If you're located in the UK, you can search for NHS Facebook groups in your local area to promote a few discounts.
Can you get bookings from social media? Or is it more a branding/showing who you are type of tactic?
Mark: I think every single business should be producing content on social media; doesn't matter if it's hospitality or whatever you do. If anyone here has watched any episodes of Gary Vaynerchuk, you'll know exactly what I'm talking about. He always talks about "document, don't create" and everyone should be doing it!
Social media is so funny when you talk about it with a business owner because it's hard to track. With Google ads for example, you know how much return of investment (ROI) you get based on how much you invest. However, it's a lot harder to track with social media.
But if you post on social media on a daily basis, I assure you that you will get a return in your investment. It's all about staying in the top of mind of your potential guests. This is why brands do all of these ads… to stay on the top of mind.
You and the villa down the road are probably doing the same thing: listed on all the different channels, have your own website, have the same kind of property, etc. However, there's no two of you. So document and share your story.
We are almost done building our new vacation rental in "wine country," in California. Is there something that you can suggest that we add to our property before the building is completed? 
John: Nappa Valley is amazing and always brings in so many people from around the world! Even if the property isn't completed yet, you can start creating hype for it.
Start building your online social presence with a Facebook page and Instagram account and you can even start creating your website to start generating traffic. Post about nearby attractions or reviews about your favorite wineries and experiences.
Carla: In terms of amenities or services to add to your build, be sure to include the amenities that guests value the most (based on Airbnb data) such as:
A full kitchen (not just a simple kitchenette)
Free parking
Pool/Jacuzzi
Air conditioning/Heating system
You can check out our full list of "47 Must-Have Amenities for Every Vacation Rental Home" here.
How do you avoid Craigslist spammers?
Carla: It depends on what you're referring to. We asked this question on several Facebook groups to get some feedback from other owners.
On Heather Bayer's Facebook group, The Business of Short-Term Rental & Property Management, Joan Hughes recommends to do the following if you find out that someone is using your listing details without your permission on Craigslist:
Flag the post
Post an ad of your own using the exact title of the scam post with the word SCAM before and after the title. In the body of the post explaining that it is your property and you don't advertise on Craigslist (assuming you don't advertise on Craigslist)
Report the ad to Craigslist as a scam
Share the link to your friends and ask everyone to flag the ad. You may need to do this several times before the ad disappears
While on the Short term rental university Facebook group, Vernon Houston Corum Jr. recommends to "verify everything – get your own checklist/checkpoints. Have non-negotiable booking requirements for guests" if you're actively promoting your property on Craigslist.
I've had a Lodgify website for a couple of years now, really happy with it and it's working well but I need to update the look and improve functionality. Have you added a blog functionality yet? And how can we offer discount coupons?
John: Lodgify doesn't currently have a blog functionality. However, we do have customers who have successfully integrated their external blogs with their Lodgify website and/or have used custom pages as a blog page.
Some examples of customer websites with blogs are Casa Pace e Gioia or La Barauderie. You can read about integrating your blog to Lodgify here.
Our promotions section can help you to create special offers for certain periods or give a discount to certain guests (e.g. repeat guests) by using a promotional discount code. Promotions can be used in a variety of different ways, so click here to find out how to create one on Lodgify.
For any other questions regarding Lodgify's product, please check out our Knowledge center or get in touch here.
Is it better to have higher nightly pricing and offer discounts but risk getting fewer bookings or go in lower to catch more people and have fewer voids?
Mark: We can recommend you do lots of things but ultimately, it's up to you (and your team) to find the right strategy for your business. Ultimately, what I ask is that you take one of the tactics we've mentioned above and tell us how it worked out for you in our Hospitality Facebook group.
Have a question we didn't get a chance to cover? Please don't hesitate to leave a comment!