The Dogwood Inn Guest House
Rental Owner Partners with Local Chamber of Commerce to Drive Direct Bookings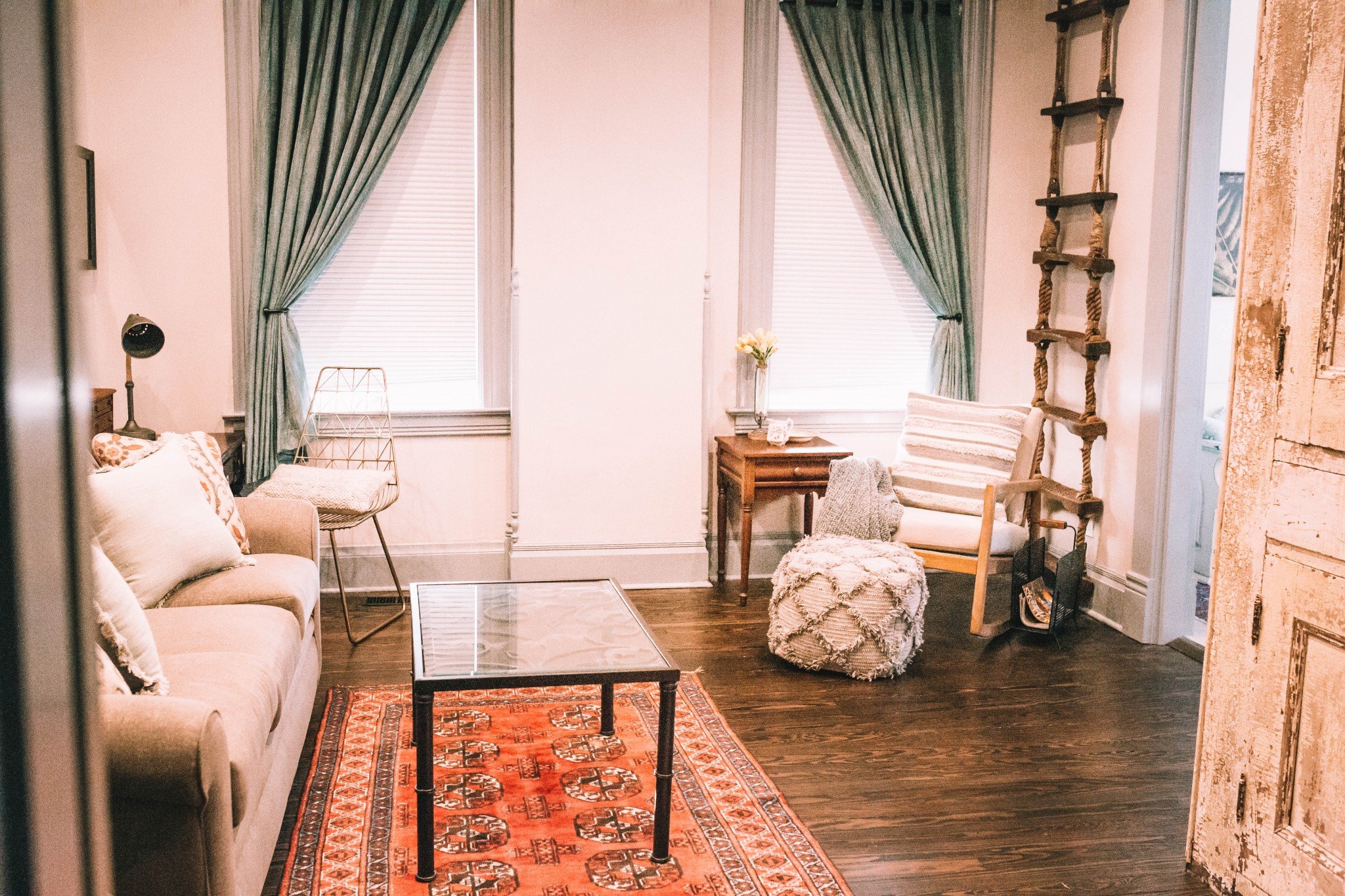 Background
Like many newcomers, Jennifer Allen's entrance into the vacation rental industry was part creativity, part necessity.
Jennifer owns a historic building in the historic town of Hermann, MO. Not only does this building house her medical practice, but it also has a two-bedroom apartment upstairs which has its own private entrance and deck.
In this apartment, she saw a unique business opportunity which would help pay the bills for the entire property.
"I decided to try to make the building pay for itself, and The Dogwood Inn was born."
Challenge
Although Jennifer had no experience renovating a property to rent out to short-term guests, she has stayed in many great guest houses in the past.
The main challenge she faced was knowing where to begin with finding the right platforms to list on. She was deeply researching the best ways to advertise her space when she came across the Netflix show, Stay Here.
"It was that eureka moment – the perfect confirmation that my plan would be a success!"
Equipped with the know-how and some great interior ideas, Jennifer finalized plans for the Inn and set out to begin making her website. 
"I'm happy to say that I was going to have a cool display of things to do and places to eat and shop before I saw it on the show – but I guess Genevieve can have the credit!" 
Solution
What they liked most about Lodgify
For Jennifer, the value for money that Lodgify offers has been ideal when starting her business from scratch.
"I love that I could build the whole site for a very affordable cost."
In addition, the breadth of features it provides simplify her property management and save time by reducing manual tasks.
"I chose to add the Airbnb channel manager to increase exposure without shortchanging myself as other sites do. The fact that the calendar is automated and synced between Lodgify and Airbnb is absolutely perfect. I have a busy medical practice so I can't be worrying about calendar hiccups."
Besides this, Jennifer is also pleased with the direct booking functionality of her website and the fact she can take online payments with Lodgify Payments – without the responsibility of keeping hold of any credit card details.
How they found the process of creating their own website with Lodgify
After seeing Lodgify's websites on Netflix, Jennifer was convinced it would bring good results for her new business venture. 
From the first moment, she found building her website was a simple, uncomplicated process.
"I signed up with Lodgify to build my website because of that show. It was so easy. The site walked me through every step and it worked right away. The professional advice during the process really helped."
How they got their first bookings
Jennifer opened The Dogwood Inn for business during a busy festival month. News of this quaint guesthouse quickly spread via word of mouth and social media like Facebook. As well as this, she found that connecting with the local Chamber of Commerce's Visitor Center was a very positive move to help secure those first few bookings.
"Our local chamber of commerce was great at recommending my space if I had vacancies. Once the website was up, I signed up for our Chamber's website which lists lodging and has a direct booking feature."
Since then, Jennifer has been directing all inquiries through to her website.
Other channels that generate traffic and bookings
The only two channels where Jennifer currently advertises The Dogwood Inn are her own Lodgify website and Airbnb.
"I'm only on Lodgify and Airbnb. I love the Airbnb app and its ease of communication. I don't need any other sources. I just need my town to host some events during the week!"
Results
How Lodgify helped them grow their vacation rental business
In the early days, Jennifer was receiving most of her bookings through Airbnb. However, after setting up direct bookings through her local Chamber of Commerce, the website bookings soon caught up.
"In the first six months, I already had 30 weekends booked! The income is really helping make those double mortgage payments. It's just happened so fast I can't comment on what it was like before."
Recommendations
With the first year as a vacation rental owner coming to a close, Jennifer has learned a lot from her experience so far which she can share with prospective businesses.
"Be high quality and very clean! Provide everything you would want or need when you stay somewhere. Be very responsive to messages and bookings. People worry about making sure the system doesn't lose them. Give clear instructions and expectations (i.e. no pets, no smoking). Do accept single night bookings during high traffic times. Do not discount your prices if your space is worth it. And finally, if "mom" calls for her college-age son, say NO!
Most of all, have fun!"