Villa Topaz
Lodgify's Website Builder Helps Owners Attract Luxury Clientele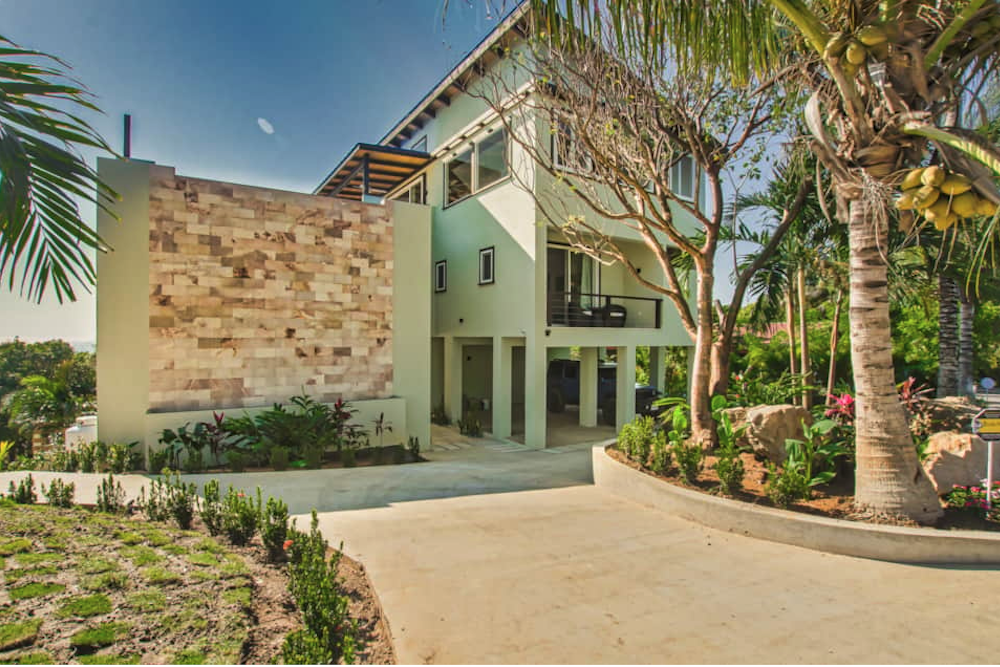 Background
After visiting Roatan many times and eventually falling in love with the island, people, and beaches of Honduras, Chantalle and Paul decided to officially relocate to the Caribbean.
They then jump-started their vacation rental business, designing and building two beautiful villas. While growing their business, this couple has remained focused on ocean conservation and awareness, as well as raising donations for the community of Roatan.
Challenge
Chantalle and Paul subscribed to Lodgify while their villas were still under construction, therefore dodging the challenges that most beginner vacation rental hosts face.
"We feel like we made the right decision in having all of our bookings, rates, and calendars on one centralized platform." 
The couple did find that navigating certain OTAs was a challenge.
"We have found that the number of fraudulent reservations and/or fraudulent credit cards far exceeds the amount of actual confirmed reservations. In our first year with those sites, we received over $35,000 in fraudulent reservations. This causes the nights to be unbookable and in turn, the platforms do nothing for compensation for the 'host'."
Challenges during COVID-19
Like many vacation rental owners, Chantalle and Paul knew it was going to be a challenge to recover some of the losses from the pandemic. Honduras shut its doors completely for over 6 months. Despite travel regulations and restrictions, Topaz Properties managed to overcome the difficulties.
"Roatan, Honduras was completely closed from March 15 – August 17, 2020. We were lucky enough to receive our first guests back on August 18, the day after our island opened up."  
To help recoup some of the anticipated losses, the couple decided to offer a modest discount to entice travelers to enjoy their stunning villa at a valuable price. With added flexibility and unbeatable prices on such a luxury stay, they were able to find success despite the challenges.
"Since then (the start of the pandemic), with all the ever-changing travel regulations, we have managed to actually exceed our previous year's income from the middle of August to December 2020."
Solution
To avoid some of the obstacles from OTAs, Chantalle and Paul knew they needed to gain independence from some of the major listing sites. While they maintain a presence on all the major sites, they built up their brand using a Lodgify site to increase their direct bookings.
Chantalle and Paul knew that they would need to put work into their website if they wanted to see real results. They invested some initial time into creating and optimizing their page to get more traffic.
"Luckily, my sister is in the marketing business, so she helped with SEO work, layout, content and driving our visibility up on search engines."
What they liked most about Lodgify
The majority of the bookings the two receive are luxury-driven. With that being said, they knew that their website would need to reflect their market. Having a sleek, robust website was essential. Lodgify provided them the ease of designing a website from scratch without skimping on any of the aesthetics.
"We did countless hours of research on which platform to sign up with. We preferred the layout options and flexibility of the website builder on Lodgify over any other software. The website templates, integration and details were exactly what we were looking for."
How they found the process of creating their own website with Lodgify
Chantalle and Paul's research paid off, as they found that Lodgify's website builder was quite easy to navigate. With design in mind, they started with the provided template layout and added in their personalizations, like breathtaking photographs, as they went along.
"We began with the general site layout, which tabs/pages we wanted and decided the general content we wanted to display. Once the Villas were completed and fully staged we hired a professional photographer, and with my interior design background, we began shooting the spaces, details we wanted to capture and of course the amazing views."
How they got their first bookings
Naturally, when they were just starting out, their initial visibility was from the major OTAs.
"Our first website booking actually came through our listing on Airbnb. The guest contacted us directly to see if we had a direct booking platform – and of course, we did!"
Other channels that generate traffic and bookings
Chantalle and Paul understand the importance of having their vacation rental listed on both OTAs as well as using their own website. They've found that many of the people that discover them through OTAs search their villa name directly and click on the villa's page or reach out to Chantalle and Paul to see if they have their own website. Fortunately, they do!
"A lot of our guests first find us on Airbnb or Vrbo, then search our Villa name. Our website is the first to come up, so they book directly with us."
After becoming an established player in the vacation rental field, they have seen a shift in where their traffic comes from. They've made a name for themselves and their brand's popularity means that they've received most of their bookings directly.
"Now, two years after starting our business, the majority of our guests are through word of mouth and repeat clients."
Results
After two years in business, they have managed to receive a lot of direct bookings thanks to their marvelous website. As they have many repeat guests, most of their bookings come directly from their website which allows them to maximize their vacation rental profits.
Chantalle and Paul wanted to gain independence from listing sites to have better control over their bookings. Having their own website that effectively attracts new and old clients has helped to contribute to this success.
How Lodgify helped them grow their vacation rental business
In their first year of business alone, over half their bookings came from their Lodgify website. 63% of their total sales were generated from their website.
With the majority of their sales coming from their website, they've been able to minimize the number of external fees they pay while maintaining superior guest satisfaction through direct communication to create a high percentage of return clients.
Recommendations
Chantalle and Paul are seasoned professionals, so they've got plenty of suggestions for newcomers.
"There are many pieces of advice I would offer, but the number one is to research your location and market. See what is out there, see what their availability is, what their rates are, amenities, websites and what other listing platforms they are on."
They knew their market inside and out, making it easier for them to grow their business. Lodgify was the exact tool they needed to target these guests. With the right tools, they were able to flourish, but they emphasize the importance of doing your research ahead of time to really be prepared to enter the vacation rental market.