Villa Maestrali
How Villa Owners Became Listing Site Non-Dependent with Software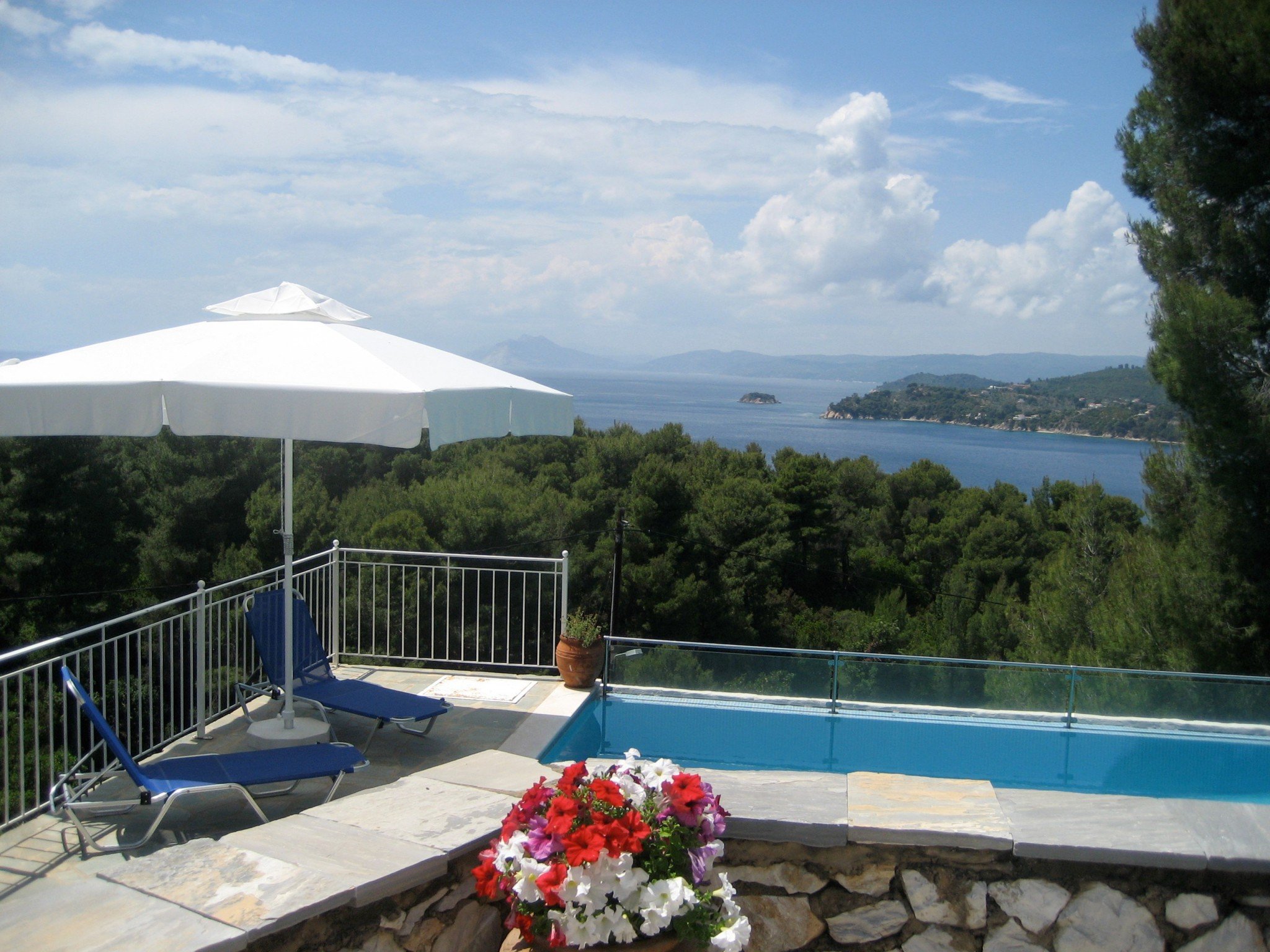 Background
After inheriting the family property, Villa Maestrali, on lovely Skiathos Island, the owners had to make some decisions regarding its future. In order to cover the cost of upkeep and maintenance – while still being able to enjoy it for their own holidays – they decided to rent it out part-time to guests visiting the island.
With competitive amenities such as a private pool, sea views and air-conditioning in all three bedrooms and an exclusive location, the owners of Villa Maestrali knew they could build a lucrative business.
Challenge
In the beginning, a British agent was taking care of Villa Maestrali's bookings. However, they soon found this to be too expensive, so they decided to take matters into their own hands. In doing so, the owners began to list the property with OTAs such as HomeAway, TripAdvisor and OwnersDirect. Advertising on OTAs enabled them to build up a loyal client base with several repeat guests, to the point where they were almost always booked up well in advance of the peak season.
In 2016, however, with the sale of HomeAway to Expedia, the owners noticed a huge change in booking numbers. Requests from HomeAway dropped from highly frequent to nearly non-existent. And while they maintained a healthy supply of return guests, no new inquiries were coming in – which they attribute to the high booking fees now imposed on travelers by the OTAs.
In addition to the changes on the traveler side, Villa Maestrali's owners were also unhappy with changes on the host side.
"HomeAway also changed our subscription to pay-per-booking and withheld the contact details of anyone who did venture to send a request."
As a result of growing frustrations, they began to look for the right solution – and shortly after, they started using Lodgify.
"I decided I had no choice but to go it alone and launch my own website."
Solution
The owners of Villa Maestrali set up a basic website and some pay-per-click Google Ads, however, the monthly cost resulted very high for very little return. Many people were "window shopping", but had no way to make a reservation as the website didn't have booking functionality.
In spite of their under-performing website, the owners were determined to succeed with their own site – and that's when they switched to Lodgify.
"With Lodgify, we were able to build a beautiful, new website. The templates and layout are clear and aesthetically pleasing. Not being a tech-savvy person, I was worried about setting up the website. However, I had lots of help and I'm very happy with the results."
What they liked most about Lodgify
As well as being able to create a direct channel for guests to book on in order to bypass OTA fees, Villa Maestrali's owners have benefited greatly from the level of support that Lodgify's team provides.
"The many functions on Lodgify are state of the art, and their customer service – through your very own account manager – offers lots of help and advice. The site also supplies its subscribers with a wide range of regular, helpful articles and eBooks, such as managing your website, improving SEO through social media, how best to deal with clients or optimize your property, to name just a few."
Above all, vacation rental software has helped Villa Maestrali to bounce back stronger than ever and fill a minimum of 21 out of 24 weeks they rent each year.
"We have regained a sense of ownership of our property. We are now able to communicate freely with our potential clients, establish a relationship with and spare our guests booking fees."
How they got their first bookings
The location of Villa Maestrali played a key role in achieving those first few bookings away from OTAs. According to its owners, Skiathos island visitors tend to come back year after year in what they call the "boomerang effect". As a result, they are well-known in the community and they receive many guests who have found them through word-of-mouth recommendations.
Other channels that generate traffic and bookings
Besides their local recognition, email marketing and social media campaigns on Facebook and Instagram have also been an effective source for generating reservations.
"We've managed to encourage inquirers on HomeAway to go online, stating our villa name and location. This has led them to Instagram, Facebook and ultimately to our Lodgify website."
That said, due to new rules on OTAs, the owners have noted that it is becoming much harder to connect with guests outside of their platforms.
"It's increasingly difficult. They not only have robots reading our email exchange with travelers, but have added human control to block any information referring even remotely to other sites for the guest to search for us."
Results
Since having their own optimized and updated website, not a single booking has been finalized on OTAs.
"It's great for our guests because they don't have to pay booking fees. But it's equally advantageous for us because we are paid directly and not through their platform which holds the payment and collects a further fee. Using Lodgify has saved us from disappearing from the market."
Recommendations
For the owners of Villa Maestrali, the move away from relying entirely on OTAs to managing their reservations exclusively through their website and via referrals has been hard work – but they want other owners to know it is achievable.
"To improve our online visibility, we post frequently on Facebook and Instagram, as well as blog on sites such as Houfy.com. This is an owner and traveler-oriented platform which encourages everyone to book direct, cut out the middleman and save guests booking fees while guaranteeing one-on-one owner service. Communicating freely with guests is key to building trust and increasing bookings."
It's not only online activities that help make staying at Villa Maestrali a memorable experience for visitors. The owners have also commissioned branded mugs for their guests as a welcome gift.
"Making the mugs is so easy and not that costly, I would recommend it to all owners. Guests love taking home a souvenir of their fun memories!"